Living Water Fellowship, on the Move
In May of this year, Crossway Network welcomed Living Water, a new church "replant" in Greeley Colorado (see the story here). While we were praying and planning for a church plant in the same city, God was also bringing about this second work at the same time. Now, by God's grace, he'll be making his glorious gospel known through both Redemption Church of Greeley (church plant, 2021) on the West side of the city AND Living Water Fellowship on the East side of the city.
A significant part of revitalizing this work for the future is an official "Church Plant Bootcamp" where the team spends hours together praying through, discussing, and establishing the church's specific mission, vision, and values. Last week, the Living Water replant team (Rob and Mauri Moser and Sean and Katelyn Hawley) walked through Phase 1 of Crossway's Bootcamp with Greg Pugh and Aaron Santini (Crossway Bootcamp Trainers). It was a unique and special time of focus again on the disciple making work of Jesus and refining the church's vision and direction for the future. Living Water Fellowship is on the move!
"If you've put the time and effort as a team into the foundation of your mission, vision, and values – when consumer Christians come asking for something different, it'll be like little stones bouncing off the Rock of Gibraltar and you won't be moved from what God has called you to do right now."

Aaron Santini, Interim Elder, Living Water Fellowship
Throughout the two days the team established a clear connection to the power of the gospel for ALL they would engage in while leading Living Water. It will be the power for everything for those already growing in Christ as well as for those who are still being drawn to him. Out of the beauty of the gospel, Living Water established core values for their church like sacrificial service, prayer, multiplication for impact, word saturated culture, faithful obedience, seeking the lost, and multicultural family.
"Establishing corporate ministry values is vital to the life and focus of the church. These are key points of focus that you all collectively own and long to live out understanding that everyone on the team may falter at times. But overall, and this is the key, you're driven by these values because you all see them prioritized in the life and ministry of Jesus. And never forget, your values will always require the Spirit of God to carry them out."

Greg Pugh, Bootcamp Trainer (and Redemption Loveland Lead Pastor)
The Living Water replant team, like most church leaders, senses there is a lot to do in order to dependently and effectively lead and live out the mission of Jesus. They are also praising God for such a rich time. Please join in praying for this new work in West Greeley Colorado!
Through the bootcamp time I'm comforted and deeply grateful that the Living Water team is thinking and praying so missionally about what's ahead! What a blessing. What a great team God has brought together in a unique way to complement one another. During the two days, the Spirit of God helped us develop a growing bond and increasing clarity for our team and vision. This process captured the hearts of our team and forged a purpose that will be our church's anchor, banner, and battle cry!"

Rob Moser, Living Water Lead Pastor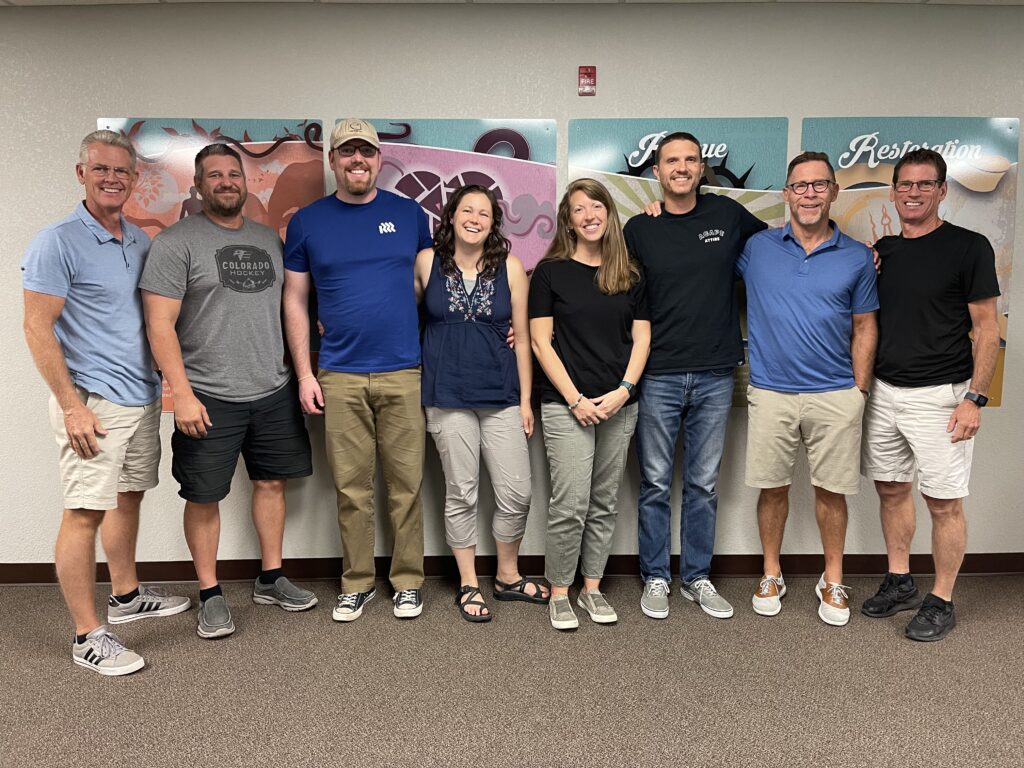 From left to right: Clark Richardson (Crossway Executive Administrator), Aaron Santini (Lead Pastor, The Crossing Church and Bootcamp Trainer), Sean and Katelyn Hawley and Rob and Mauri Moser (Living Water Core Team), Dan Harty (Lead Pastor, Windsor Community Church) and Greg Pugh (Crossway Bootcamp Trainer and Redemption Loveland Lead Pastor). Dan, Aaron, and Clark also currently serve with Living Water Lead Pastor, Rob Moser to provide a temporary plurality until God faithfully raises up more pastors.
Sorry, we couldn't find any featured churches.