This page is your "go to" for all things Huddle 2021. Scroll down for schedules, directions, menu, and other key items. Check back POST-HUDDLE. We'll add videos, resources, and messages from our time together.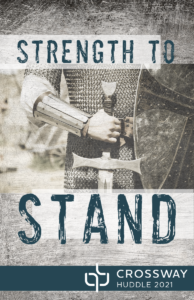 What a delight it is to draw near as family in beautiful Vail, Colorado after two years!   In addition to the rich times of worship and connection with one another we always experience together, our theme this year is centered on the Armor of God in Ephesians 6 – "Strength to Stand." It's probably stating the obvious that we as leaders may all be a bit battle weary if not exhausted!  Perhaps some have felt the schemes of the evil one more than usual.  Maybe some have been tempted to lean on fraudulent sources of strength or have felt some of the destructive points of deception that plague pastors and their wives. Wherever we're coming from, our hope in the end is that each one of us will leave Vail with a renewed sense of dependence, rest, and yes,  "STRENGTH TO STAND" in this life and ministry God has called us to.
IMPORTANT PRE HUDDLE INFO

We're so glad you are registered for this year's Huddle – "Strength to Stand." God has much in store and we look forward to seeing the ways everyone is encouraged in Jesus and connected with each other. As you prepare to head to Vail for our time together, here are some key things to consider.

As you know, our event is at The Lodge at Vail | Vail, CO. 174 Gore Creek Dr, Vail, CO, 81657. Main Resort Phone Number is (970) 496-4910.
First and foremost…drumroll please…there are NO REMAINING MASK REQUIREMENTS at the Lodge at Vail or in the Village. You may want to have one in case you want to duck into a shop or ice-cream parlor that still may be requiring it. This is a huge praise!
Check in on Sunday or Monday is at 4:00PM. However the front desk will work with us and release rooms as they become available. Monday check in is always slightly sporadic because we arrive at 11:00 and start at lunch time (Noon) and many cannot check in until later. When you arrive, check in at the front desk with your name like you would at any hotel. If your room is empty and clean, they will check you in. If not, you'll have to patiently wait and check back. Apologies, there is no way around this as we are sharing a large resort with other guests.
There is valet parking only. It is free of charge but you will need to plan for tips. This means you will also need to bring your luggage in when you arrive regardless of whether or not your room is ready. As you wait, they have places to store your bags or you can simply bring them to the meeting room (International Ballroom). The ballroom is very large and has plenty of room for bags.
Plan to stay hydrated. Altitude has a significant impact on this. Bring your own water bottle if you'd like. The Lodge has a free sparkling and flavored water refill station.
You may want to include bug spray and sunscreen in your items to pack. We have a picnic outdoors Tuesday evening and you'll be walking and enjoying outside during some downtimes and breaks. Make sure you have some good walking shoes but there is no significant hiking planned in the agenda. That's up to you.
In the mountains it can be quite cool at night and still hot during the day. Next week looks typical and beautiful. 80s during the day and down to 50s at night. Plan for casual and comfortable dress with maybe some layer options. The Lodge also has a very nice pool, 2 large hot tubs, and an excellent fitness center.
COLORADO CHURCHES – Please plan to bring a couple additional blankets to share with out-of-towners for our picnic at Ford Park on Tuesday. Please also bring whatever games you'd like to share (Spikeball, frisbee, etc. etc. DidI say Spikeball already?). There is also a nice basketball court at the park as well.
Check out time on Wednesday is 11:00 AM which is during our final meeting. Usually this means you need to bring everything with you to breakfast and be checked out before the meeting begins. But once again, please check with the front desk along the way specifically on your room and they may be able accommodate a later check out time.
It goes without saying, we are a large group sharing this resort with others and the glory, kindness, compassion, and love of Jesus can (and will) be wonderfully on display at all times and in every interaction!
If you have more specific questions, check in with your pastor team first but then always feel free to post a comment or question here in the feed for answers or updates.

SEE YOU IN VAIL!
PICTURES AND SOCIAL MEDIA

PICTURES: Share your photos and see everyone else's in this Google Photos Album: Huddle 2021. Simply "join" the album on your phone and add a few pics as you are taking them through the week.

SOCIAL MEDIA: When you post anything social media while at the Huddle, please mention @CrosswayNetwork and add #Huddle2021.

Follow Crossway's brand new Vimeo Channel. This year's Huddle will be the pioneer event for the channel.
MONDAY SCHEDULE

11:00 am – 12:00 pm Arrival and Check In

12:00 pm Lunch – Lodge "Sandwich Shop"

1:00 – 2:15 pm Intro Session

2:15 – 3:00 pm Break/Check In

3:00 – 4:30 pm Session 1 – "Our Battle"

4:30 – 6:00 pm Break/Check In

6:00 – 7:30 pm Dinner – Lodge "Tex Mex"

8:00 – 9:00 pm Prayer and Communion
TUESDAY SCHEDULE

7:30 – 8:30 am Breakfast

8:30 – 9:45 am Intro Session

9:45 – 11:15 am Session 2 – "Our Armor"

11:15 – 11:45 am Couples Walk

End walk at lunch destination (Delivery will be near Gondola 1) 

11:45 am  Group Picture – Location (Gondola 1)

12:00 – 12:45 pm Outdoor Lunch/Hangout

1:00 – 3:00 pm Men and Women Sessions

Women in Cucina, Men in Main Ballroom

3:00 – 6:00 pm Free Time

6:00 pm BBQ Dinner at Ford Park
WEDNESDAY SCHEDULE

7:30 – 9:00 am Breakfast

9:00 – 10:00 am Intro Session

10:15 – 12:00 Session 3 – "Our Posture"
CHECK OUT THE MENU FOR THIS WEEK

MONDAY LUNCH – LODGE "SANDWICH SHOP"

Tomato Soup and Lodge Salad
Slow Roasted Beef, Sliced Turkey & Ham, Roasted Chicken, Tuna & Apple Salad
Sliced Cheeses, Lettuce, Tomato, Shaved Red Onions, Pickles & Olives
Croissants, Brioche Rolls, Pita Wraps & an Assortment of Sandwich Breads
Kettle Chips, Condiments
Assorted Cookies

MONDAY DINNER – "TEX MEX"

Mixed Greens with Roasted Corn, Black Bean, Cilantro-Jalapeno Vinaigrette
Chicken & Steak Fajitas, Roasted Red Peppers, Caramelized Onions Mexican Street Corn
Anasazi Beans & Spanish Rice
Shredded Cheese, Fire Roasted Tomato Salsa, Guacamole, Sour Cream
Tri-Colored Tortilla Chips, Warm Flour & Corn Tortillas Chocolate Drizzled Churros

TUESDAY AND WEDNESDAY BREAKFAST – LODGE POWER BREAKFAST

Chilled Orange Juice
Seasonal Fruit Salad
Assorted Muffins
Farm Fresh Scrambled Eggs, Yukon Gold Skillet Potatoes, Chicken Apple Sausage
The Lodge Granola, Assorted Individual Yogurts Preserves, Honey & Butter

TUESDAY LUNCH

Your Special Order from Avon Bakery
Outdoor Lunch Delivered near Gondola 1

TUESDAY DINNER
Be sure to check back for more POST-HUDDLE. We'll add videos, resources, and messages from our time together.