Church Planting – Novi Sad, Serbia
I wanted to pass along an exciting development in our church plant in Bozeman, MT. In 2020 we launched our church and by God's grace, we are experiencing healthy growth and a culture of people who are excited about church planting. From day one we have cast vision for "what's next" and by God's grace, an opportunity to plant a church in Serbia has come to fruition.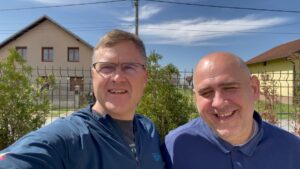 About 8 years ago I met a Serbian youth pastor named Slobodan ("Sloba") Stajanovich through our ministry with Nexus International (a Crossway Network partner). Over the years we have built a great friendship and have developed a growing vision to reach people in Serbia. In 2020 Sloba expressed to me that he felt, in the long term, that a new church planting network would be the best way to reach young people in Serbia. I was elated because I felt the same way. Our pastor team at Mountain View Bozeman prayerfully engaged with Sloba and his wife Setsa in this process and decided that it would be pleasing to the Lord for us to step out in faith and start moving in the direction of planting a church in Serbia. View Sloba's testimony of God's grace below.
Last April, Micah Wendt from our sending church in Fort Collins (Mountain View Community) and I visited Sloba and helped him complete a church planting proposal. Then in June 2022 we sent a missions team from our church to serve alongside Sloba and some of his young leaders. At the moment, they are wrapping up an Alpha Course where they have had dozens of non-believers join them and show interest in their church plant. And the Lord has provided a meeting space for them (which is so obviously a gift of the Lord), and we are growing in excitement.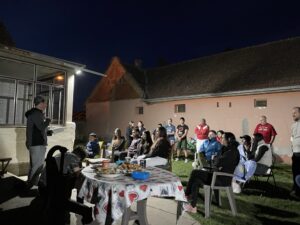 We are working with Sloba to walk through the Crossway Network process, complete his application, and figure out further details on the proper system for an international church plant, including licensure, an interview with the Crossway Network Servant Team, and some other details. At this point, I thought it would be a good idea (and a lot of fun for me personally) to introduce Sloba to the broader Network just so that you all can be encouraged and be praying for him (and for us as his sponsoring church) in this process.
Take five minutes and enjoy meeting Sloba and hearing God's work of grace in his life in THIS VIDEO. We created it for Nexus since we are helping him do some fundraising, but trust it will encourage many as we trust the Lord together to expand his kingdom. Our plan is for Sloba to work part-time with Nexus and part-time with the new church as we figure out how to help them become sustainable.
Timeline for the future…
Sloba and Seta got married in 2002 and they have three wonderful children (two boys 16 yrs. and 13 yrs. and one girl 11 yrs.). The Stajonovich's have been serving youth through a variety of ministries since 1999. Hosting gatherings in their home, they have a young and eager launch team of about 12 people currently (please pray for 2 more couples). They took a team of 8 people going through the Crossway Chapel DNA study this summer. They are just now wrapping up an Alpha course and they have a prayer list of about 240 people.
Thanks for your prayers!
---
Ashley Denton is Mountain View Community Bozeman's initial church planter and now a member of their growing pastor team as well as Sr. Vice President & COO, Nexus International and Founder, Wilderness Ministry Institute.
Sorry, we couldn't find any featured churches.