Church Planting News: Berthoud, Colorado
This last spring, we had a gathering of 165 followers of Jesus with various levels of interest in church planting in Colorado (Learn more here: Church Planting Catalyst 2022). This is just a short post to ask that you please pray for the cities we believe God is leading us toward and to invite you to a special opportunity to explore. We are praying for leadership in Wellington and Johnstown. God is pulling a team together around Adam and Joanie Bailey for Denver 2023! And now Redemption Church, Loveland is leading the charge to explore and pray for the rapidly growing town of Berthoud, Colorado. Whether you see yourself as a SENDER (prayer, support, encouragement) or someone who could GO as a church planting team member, we invite you to gather on October 8th at Fickel Park in Berthoud from 10AM-Noon to see and hear what the Lord is doing. If you're reading this from a distance, we'd love to have as many in the Crossway family praying for the effort as possible. Please join us!
Contact and Questions:  Greg@redemptionloveland.org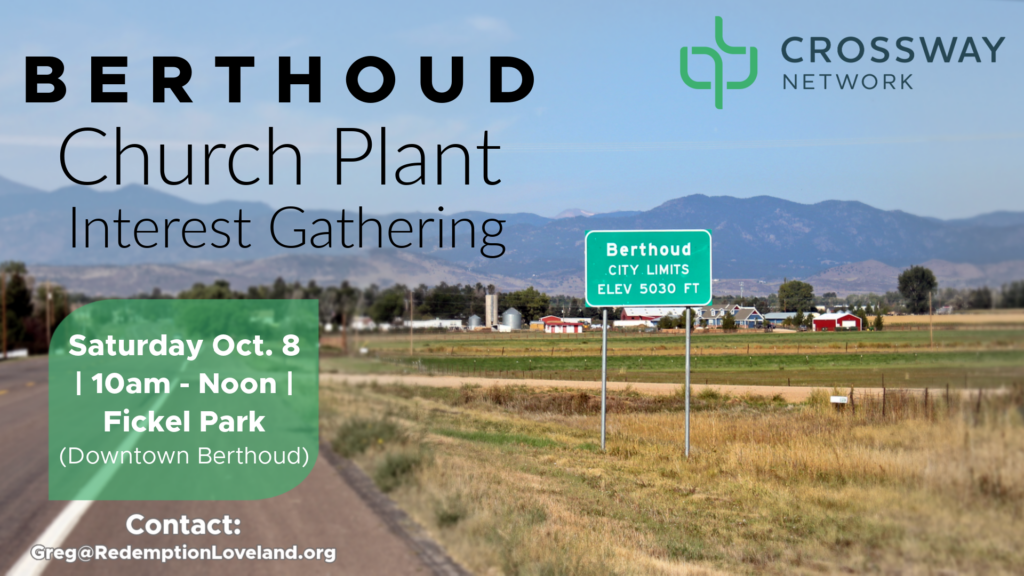 Sorry, we couldn't find any featured churches.